Super Absorbent Cellulose Sponge CC-0254
৳ 270.00 – ৳ 540.00
Product Features & Benefits:  
1. Set of 6 durable and reusable cloths, that saves a lot of trees,each measures Size:18*20*0.4cm
2. 100% Natural, 100% Biodegradable, 100% Eco-Friendly
3. Our Multi-use Cloth is washable up to 300 times, super soft, light, durable & flexible
4. Absorbs 20 times its own weight in water
5. Perfect for use in the kitchen, bathroom and office; can be used on most surface areas in your home
Estimate Delivery Times: 3-4 days (Dhaka), 5-7 days (Out Side Dhaka)
14 Days Replace: Change of mind is not applicable.
Easy Payment: COD (Cash on Delivery) or POD (Payment on Delivery)
Compare
Description
Product Description
The multi-use cleaning cloth is a fabulous, absorbent, biodegradable, and natural cleaning cloth.
This re-usable cloth is perfect in your kitchen, bathroom, and office and can be used on most surface areas. We're confident that once you try multi-use cleaning cloth you won't go back to traditional cleaning cloth!
A multi-use cleaning cloth can be used in place of your sponge, wash cloth, or paper towels.
It's made from natural cotton and wood-based cellulose pulp and is 100-percent biodegradable. After an independent composting test, the multi-use cleaning cloth broke down completely within 5 weeks.
The multi-use cleaning cloth is a durable product due to the reusability factor and can last months. Using a multi-use cleaning cloth is equivalent to using 10 rolls of paper towels in an average home.
The multi-use cleaning cloth has an absorption factor of 20x its own weight.
Cloth dries quickly, so it is not a breeding ground for bacteria.
How to use a multi-use cleaning cloth:
It's super simple! When dry, multi-use cleaning cloths are somewhat "hard," making them perfect for stuck-on messes.
For those tough messes, we recommend using a dry cloth at first to break them down.
As you wet your cloth they'll become super soft and perfect for cleaning the remaining grime.
While cleaning you can constantly wring out the towel just like terry cloth.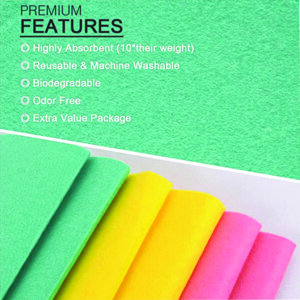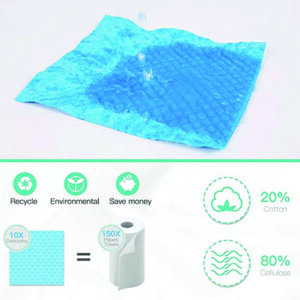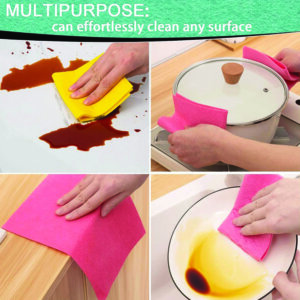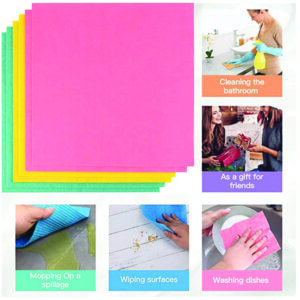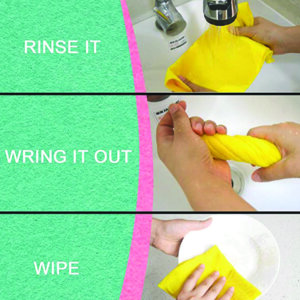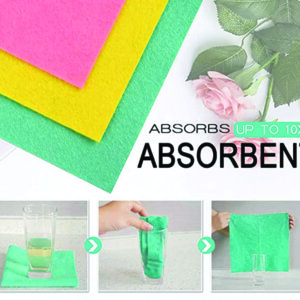 Specification
Additional information
| | |
| --- | --- |
| Weight | .5 kg |
| size | 06 Pcs Pack, 12 Pcs Pack |